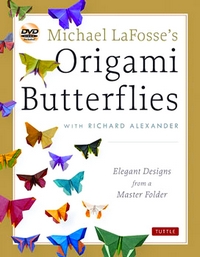 | | |
| --- | --- |
| Skill Level | Intermediate |
| Clear diagrams? | Yes |
| Tinted diagrams (to show 2 sides of paper)? | Yes |
| Photos of completed models? | Yes |
| Is there indication to the model size resulting from size of starting paper? | No |
| Are the models "Pure" origami (From a single square - no cuts)? | Yes |
Overall Impression

I love Michael LaFosse's butterfly designs. His earlier publication, Origami Butterflies was self-published, hence more difficult to find, and laid out a brilliant system for folding many butterfly variations. This new edition uses and explains this system again, including notes for both squares and rectangles, and diagrams for old and new butterfly designs. Each model comes with notes on the design, the person who inspired it, and a haiku.
Also discussed are ideas for how to use the finished models in different ways, and choices for materials to fold from. All those interesting papers you picked up on your travels and never really found a good use for? These butterflies will be perfect for them.
The overall design of the book is stunning, with beautiful photos, showing the designs folded from multiple types of paper. The layout and diagram quality are superb.
And if you prefer folding from video instructions, you're in luck, because the 2 DVDs included with the book contain full video instructions for every single model in the book. Taught by Michael LaFosse, you can be sure that the teaching is of the highest quality.
I would recommend this book to folders of all levels, it's just as fun as origami should be, and everyone would love to get a folded butterfly as a gift!
There are 26 Origami Designs in Michael LaFosse's Origami Butterflies: