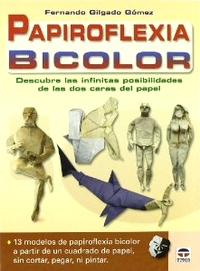 | | |
| --- | --- |
| Skill Level | Complex |
| Clear diagrams? | Yes |
| Tinted diagrams (to show 2 sides of paper)? | Yes |
| Photos of completed models? | Yes |
| Is there indication to the model size resulting from size of starting paper? | Yes |
| Are the models "Pure" origami (From a single square - no cuts)? | Yes |
Overall Impression

Fernando Gilgado is a master of the "Inside-out" technique, using the two sides of the paper to create a bi-colored model. This book collects some of his more complex designs of this kind. The models are all great, some are whimsical asnd fun, such as the "Mortgage" model, depicting a man trapped under the weight of his house!
The production quality of the book is very high, with full-color clear diagrams throughout, and each model containing the crease-pattern and design-notes.
A truly fun book for complex-origami folders.
There are 13 Origami Designs in Papiroflexia Bicolor: