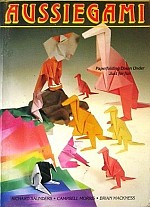 Aussiegami
Published:

1988 by Lothian

Pages:

64

Binding:

Paperback

Language:

English

ISBN-13:

9780850913446

ISBN-10:

0850913446
Buy from: Amazon.com
Buy from: Amazon.jp
| | |
| --- | --- |
| Skill Level | From simple to low intermediate (defined in the book as from "Easy as falling of a log" to "Hard Yak |
| Clear diagrams? | Pretty clear - hand drawn, the verbal instructions are separated from the drawn diagrams |
| Tinted diagrams (to show 2 sides of paper)? | No |
| Photos of completed models? | No |
| Is there indication to the model size resulting from size of starting paper? | No |
| Are the models "Pure" origami (From a single square - no cuts)? | Some with cuts, some multi-piece, one from a rectangle |
Overall Impression
I found this book on ebay, and purchased it because the theme of all Australian models seemed interesting.
The animal models in this book are mostly not very appealing, but the Sydney Opera House and the slouch hat, are interesting and nicely done.
Each model is accompanied by short Informational text.
Not a "must have" book, but nice for the unique theme, and might be good for beginners.
There are 15 Origami Designs in Aussiegami: