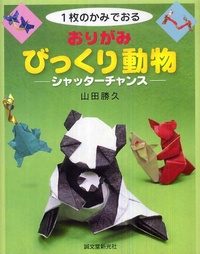 | | |
| --- | --- |
| Skill Level | Complex |
| Clear diagrams? | Yes |
| Tinted diagrams (to show 2 sides of paper)? | Yes |
| Photos of completed models? | Exellent photos |
| Is there indication to the model size resulting from size of starting paper? | No |
| Are the models "Pure" origami (From a single square - no cuts)? | Yes |
Overall Impression

This original book is all about getting "picture moments" - several subjects from a single square of paper, usually using both sides of the paper for interesting color-changes. My favorites here are all the models involving various combiantions of pandas, one incorporating 3 pandas from one sheet.
The animals are usually portrayed in Yamada's cartoonish style, as caricatures of the real ones.
Diagramming quality is good, but the requirement for some complicated moves with occasional vague reference-points, would make me recommend the book to complex, or at least high-intermediate folders.
There are 16 Origami Designs in Amazing Animals - Perfect Shot: