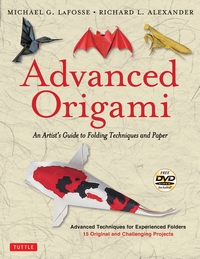 | | |
| --- | --- |
| Skill Level | From simple to complex |
| Clear diagrams? | Yes |
| Tinted diagrams (to show 2 sides of paper)? | Yes |
| Photos of completed models? | Yes |
| Is there indication to the model size resulting from size of starting paper? | Yes |
| Are the models "Pure" origami (From a single square - no cuts)? | Almost all are from squares |
Overall Impression
Not only does this book contain diagrams for Michael LaFosse's fantastic masterpieces (I've been waiting for the Toucan diagrams for years!), but it also deals at length with origami as an art. Starting with general tips for folding, and discussing wet-folding, back-coating, using Methyl Cellulose for wet-folding, making tissue foil, how to choose the right paper for the job, and making special paper for origami from scratch! All with full-color photographic illustrations. For paper-making, however, I recommend Origamido's video "Paper Making" which goes into the process in much more depth. The book also has paper "recipes" for several types of papers for origami, including those favored by Robert Lang and Satoshi Kamiya.
LaFosse's models are challenging, not because they employ complex sinks or a lengthy sequence of steps (most models average at 30 steps or so), but because you must use your sculpting skills to be able to breathe life into them.
LaFosse accompanies each models with the story behind its creation, and with valuable tips about the paper and techniques required.
The revised 2017 edition includes a DVD with video clips for all models in the book, which are not full tutorials, but rather guide the viewer through the more difficult steps for each design.
This is an important book, and is highly recommended for advanced folders.
There are 15 Origami Designs in Advanced Origami: