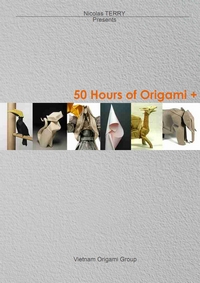 | | |
| --- | --- |
| Skill Level | From simple to complex |
| Clear diagrams? | Yes |
| Tinted diagrams (to show 2 sides of paper)? | Yes |
| Photos of completed models? | Yes |
| Is there indication to the model size resulting from size of starting paper? | Yes |
| Are the models "Pure" origami (From a single square - no cuts)? | Most are |
Overall Impression

The amazing talent pouring out of Vietnam in recent years has long deserved being featured in its own book form. Nicolas Terry has finally took to the task and produced this beautiful volume, featuring the work of many Vietnamese creators. The models vary greatly in style; from Giang Dinh's minimal folding creating lively models full of expression, to the highly technical folding of various characters that run over 200 steps. Also included are a couple of crease patterns for ultra-complex designs, and a crease-pattern-diagram combination for one of the most magnificent horse I've seen in origami.
I'm always happy with Passion Origami's book quality, and this book is no different. Each model comes with the designer's thoughts, and there are short bios for all creators. There's also a "secret code", that once figured out will get you some extra content.
Nicolas Terry has introduced a new purchase option that I find most welcome. For very little extra, you can get, along with the hardbound copy, a PDF file of the book. This way you don't have to wait for the mail before you start folding, and the file serves as a backup of sorts to the book!
There are 33 Origami Designs in 50 Hours of Origami +: